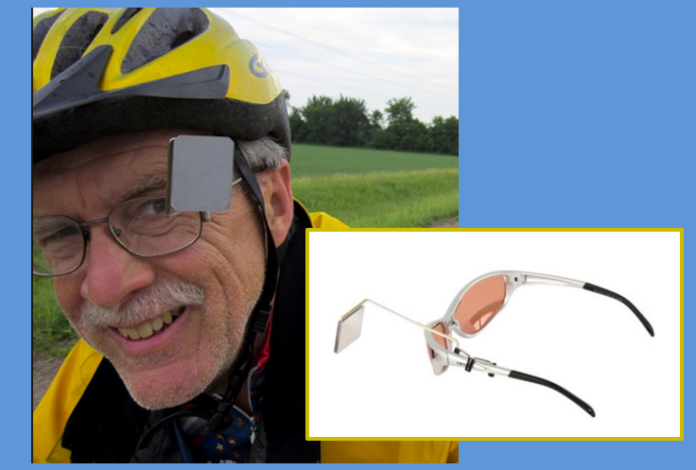 Whether you're avid cyclists, like the team at Ultra Fit Over 50, or an occasional peddler, there's one very inexpensive safety device that is, in our humble opinion, completely indispensable — the Take-A-Look rear view mirror.
With a steel and brass frame and swivel system that is incredibly adjustable, providing enough resistance that it never moves out of adjustment, even at high speeds or on rough roads — and no cheap plastic here — you always know what's coming up from behind.
Think about it: You wouldn't drive your car without a rear view mirror. Right? So why ride your bike without the same sense of safety.?
And, to top it off, it costs about $11.00. That's it.
Why attach a rear view mirror to your sunglasses rather than your helmet or handlebars? Simple.  It's far easier to move your head a tiny bit for a complete view and, as long as you have your glasses you have your rear view safety mirror.
And get this, it weighs a mere 9 grams and is made in the USA.
It's available right now on Amazon, here.
Never Stop