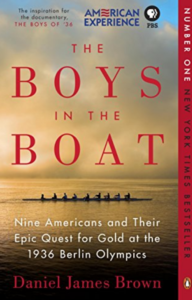 Check out this New York Times bestselling account detailing how an unlikely rowing crew from the University of Washington rises to challenge the best in the world in an era of the Great Depression and the 1936 Olympics in Berlin.
The rowers, comprised of gritty sons of loggers, shipyard workers, and farmers, push themselves to the limit at a time in which eight-oar crew was a national and international phenomena.  In this day and age, it may be difficult to imagine more than 100,000 people watching each event with a national wire service "broadcasting" the action, stroke by stroke — but that's exactly what happened.
Author Daniel James Brown transports us there with precision and a keen eye for detail.  It's a "must-read" according to our audience.  Order it here.