Super cyclist and speed junkie Denise Muller has taken "fast ride" to a new level recently in September of 2016, reaching an official speed of 147.75 mph on Utah's Bonneville Salt Flats.
In the process she set a women's world record for fastest speed on a paced bicycle. No woman had ever attempted the mark before her. The speed was short of the overall world record of 167 mph, set in 1995 by Dutch cyclist Fred Rompelberg, but pretty darn good — and third fastest ever!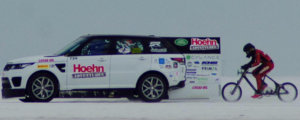 The conditions were a bit wet on the salt flats at that time and may have prevented Mueller from making any runs in the final day of the four-day World of Speed event.
Mueller said she believes that with one more day, she had a realistic chance of topping the one-time world record of 152.2 mph set in 1985 by American John Howard, who is now her coach.
"We were prepared to really be able to push the envelope for at least another 10 mph today, but we weren't able to do it," Mueller said.  Her pace vehicle driver was sports car racer, Shea Holbrook.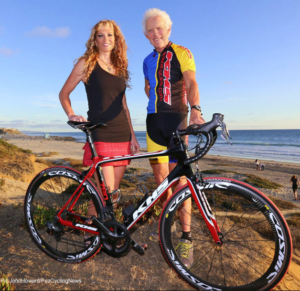 "We didn't have enough distance to go 155 mph," Howard said of Mueller's runs. "We needed one more mile."
So how do you get to those kind of speeds on two wheels?
In this type of challenge, the cyclist is towed to 90 mph and then she (or he)  has to gain the additional speed on his or her own while drafting behind the pace vehicle, which blocks the wind by means of a fairing.  In essence, it is the very pinnacle of drafting on a bike — taken to a whole different level.
And, it's not new.  Get this: This record was invented by Charles "Mile-a-Minute Murphy" who first drafted a train to set a 60 mph record at end of the 1800s.  In that instance, to reach his goal, a mile of plywood sheets was attached to the railroad ties ensuring that Charles would have a smooth surface riding behind the train.
The history is intriguing: In 1938, Alfred Letourneur hit 91mph at a velodrome in France riding behind a motorbike.
In 1985, Denise's coach and 3 time Olympian, John Howard, set the record at 152 mph riding behind a dragster car at the Bonneville Salt Flats in Utah.
But, world records are tough, dangerous and elusive. In three separate centuries, less than 12 people have set a bicycle land speed record of this type.
Given Denise's competitive drive and skill, we can easily imagine another attempt is already on the drawing board.  Ride on!
Never Step