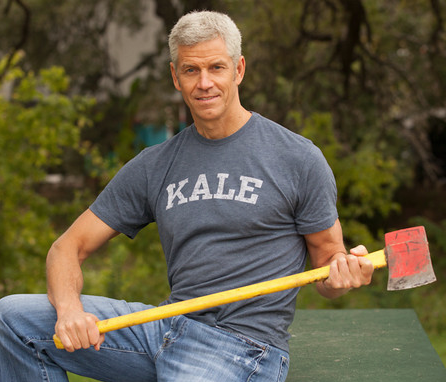 So get to know Rip, if you're not already familiar with him and his work.
Rip is a former firefighter, an accomplished triathlete and dedicated to improving America's health.  In short, he's a busy guy.
Born in upstate New York, raised in Cleveland, Ohio, and educated at the University of Texas at Austin, he was a three-time All-American swimmer.
Following graduation Rip spent a decade as a top-tier triathlete. Then, he joined the Austin Fire Department where he introduced his passion for a whole-food, plant-based diet to Austin's Engine 2 Firehouse in order help a fellow firefighter dramatically turn his health around.
The story is astounding.  Here's what the Engine2Diet website tells us: "THE ENGINE 2 DIET was created and implemented by Rip Esselstyn, a former world-class professional tri-athlete and the son, grandson and great-grandson of renowned physicians, after he discovered the dangerously high cholesterol level (344!) of one of his fellow firefighters at the Austin (TX) Engine 2 Station. The results of his revolutionary, plant-based diet were so dramatic – and the food so delicious and easy-to-prepare – that Rip's program received media coverage on NPR, in The New York Times and in several other newspapers across the country.
"Rip saved countless lives as a firefighter. Now he is saving millions more with his New York Times best-selling book, THE ENGINE 2 DIET. His groundbreaking nutritional program with indisputable, dramatic results allows you to lower cholesterol and lose weight in just 4 weeks by eating foods that are plant-based, nutrient-dense, naturally low in calories and high in fiber."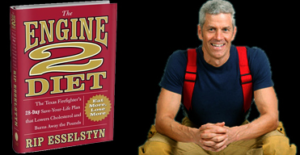 The approach — using a plant-based diet — was foreign to most of the firefighters until they saw the results.  It then mushroomed into a movement.
Not content to rest on his laurels, Rip then wrote the national bestselling book, The Engine 2 Diet, which documents the scientific connection between a plant-based diet and good health.
But there's more: Rip has teamed up with a new crew, Whole Foods Market, and is one of their Healthy Eating Partners — dedicated to raising awareness for Whole Foods employees, customers, and communities about the benefits of eating a plant-strong diet.
Check him out at Engine2Diet.
Never Stop