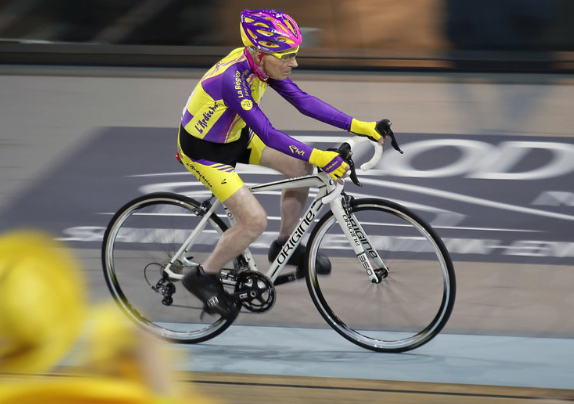 The Ultra Fit Over 50 crowd has a new hero: Frenchman Robert Marchand, who was once told by a coach that he should give up cycling because he would never achieve anything on a bike.
Spoiler alert: In early January of this year, wearing a fashionably tight yellow and violet aero jersey, the 105-year-old Frenchman set a world record in the 105-plus age category — by riding 14 miles in one hour.
In fact, Marchand had ridden faster, but told the gathered crowd that his current form was not as good.
"I did not see the sign warning me I had 10 minutes left," Marchand said. "Otherwise I would have gone faster, I would have posted a better time. I'm now waiting for a rival."
Three years ago at the same venue, Marchand covered 16.7 miles in one hour to top his own world record in the over-100s category.
But the big achiever follows a modest lifestyle. Marchand, lives in a small flat in a Parisian suburb and keeps pedaling and stretching every day. As if time had no effect on him.
"He's got two essential qualities. A big heart that pumps a lot of blood, and he can reach high heart beat values that are exceptional for his age," Marchand's physiologist, Veronique Billat, told The Associate Press. "He can better this mark."
No doubt.
And get this, he took up his bike again when he was 68 years old and began a remarkable series of cycling feats.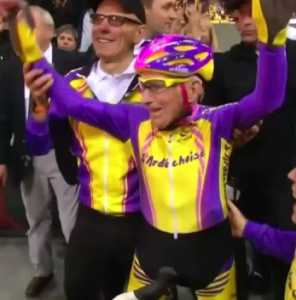 His tiny body packs a real punch. At 5-feet tall and weighing 115 pounds, he rode from Bordeaux to Paris, and Paris to Roubaix several times. He also cycled to Moscow from Paris in 1992.
Ten years later, he set the record for someone over the age of 100 riding 100 kilometers (62 miles).
Bravo Robert!
Never Stop