Meet one of the fittest men over 50 in America: Rich Roll.
He's a  graduate of Stanford University and Cornell Law School, and a 51-year old accomplished vegan ultra-endurance athlete — not to mention a former entertainment attorney turned full-time wellness and plant-based nutrition advocate.
Oh, did we mention that he's a popular public speaker, husband, father of 4 and inspiration to people worldwide as a transformative example of courageous and healthy living.
In 2012, Rich became a #1 bestselling author with the publication of Finding Ultra: Rejecting Middle Age, Becoming One of the World's Fittest Men, and Discovering Myself.
Just how Ultra Fit is Rich? In May 2010, Rich and his ultra-colleague Jason Lester accomplished an unprecedented feat of staggering endurance.  They called it the EPIC5 CHALLENGE- a odyssey that entailed completing 5 ironman-distance triathlons on 5 islands of Hawaii in under a week. That started on Kauai, they travelled to Oahu, Molokai and Maui before finishing on the Big Island, following the course of the Ironman World Championships on the Kona Coast.
But get this, what makes Rich truly remarkable is that less than two years prior to his first Ultraman, he didn't even own a bike, let alone race one.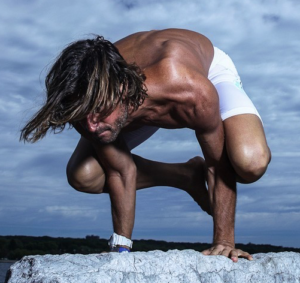 Although he competed as a butterfly swimmer at Stanford University in the late 80's, Rich's career was cut short by struggles with drugs and alcohol — an addiction that led him astray for the next decade, alienating friends, colleagues and family, landing him in jails, institutions and ultimately rehab at age 31.
Although sober, Rich soon found himself 50 pounds overweight; the furthest thing from fit. Everything came to head on the eve of his 40th birthday.  Defeated by a mere flight of stairs that left him buckled over in pain, he foresaw the almost certain heart attack looming in his near future.
It was time for a major life change.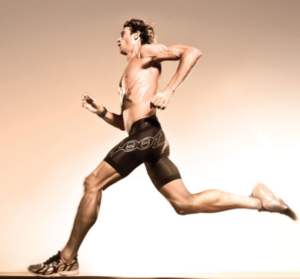 The day immediately following his staircase epiphany, Rich overhauled his diet, became a dedicated vegan, put on his running shoes and jumped back into the pool. Two years later, 50 pounds lighter, and fueled by nothing but plants, he surprised the triathlon and ultra communities by not only becoming the first vegan to complete the 320-mile über-endurance event, but by finishing in the top 10 males (3rd fastest American) with the 2nd fastest swim split — all despite having never previously completed even a half ironman distance.
Read more about Rich here.
Never Stop